–  DESIGN –
"Cozy" is the word of the season this year for winter 2022/2023! That means changing up bedding, highlighting antiques, and adding a touch of remembrance of summer (we are in SoCal, after all) while keeping a design focus in mind.  It's a simple change with a big emotional impact; switching your bedding and small accents around your home for the Winter can create a cozy vibe of peace and tranquility.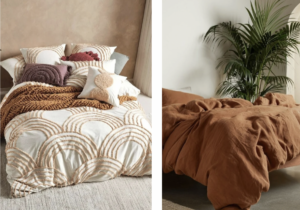 An easy fix, is going for a solid duvet (bottom right) comforter in the main or guest bedroom. Changing your bedding doesn't necessarily mean a darker comforter or darker colors. The actual duvet cover could be white or lighter with darker or more colorful accents! You could also dabble in a comforter with a white background and a
darker print on top (bottom left). We also love the tip to display firewood as an easy and chic touch for the Winter months. See? Winter doesn't have to be dark and gloomy from January – March! Start decorating for the holidays and make your home a place that is full of joy, warmth, and comfort until the Spring arrives!
–  SOCCER HEAVEN HAS ARRIVED
Agent Contribution by Jeffrey David Harvey, Partner Agent

The planet's largest soccer tournament, The World Cup, is well under way, and if your nation's team has already been eliminated, then we here at L34 Group want to offer our heartfelt condolences.
Soccer (or football, depending on what side of the Atlantic you reside on), is known for many things, with arguably the most notable being its ravenously passionate fans. Los Angeles has thousands of places for World Cup-crazed fans to take in matches,
but only one that boasts the ambience
and vibe of an early 20th Century church turned soccer heaven.
Dubbed "The House Of Football," the 8,000+ sq ft. space housed within The York Manor (a Methodist church first opened in 1913 on York Blvd) aims to be "the hub of football culture in the United States with constant events, activations, and cultural experiences."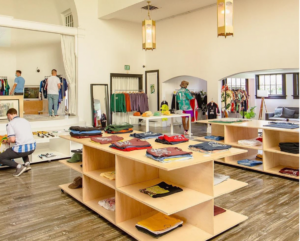 With front and back yard spaces for fans to watch their favorite teams play in the beautiful Southern California sun, a huge underground speakeasy with three private event rooms, and a dedicated retail shop with over 1,000 soccer team jerseys and accessories, The House Of Football is poised to become the next big sports venue in NELA.
The House Of Football is currently offering ticket packages for select matches that include entrance to the venue and drinks. Word has it that the founders are also
planning a World Cup party a few days before the final match. Information on ticket prices and packaging can be found at www.thehofla.com/general-6
The House Of Football is located at 4908 York Blvd, Los Angeles, CA 90065
– LOVE WORDS –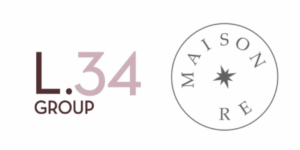 We love our clients and they love us….
"We worked with Rachael Reiser and L34 to purchase our home in Los Angeles. I met Rachael at an open house for a property L34 was listing, and I was struck by her warm spirit as well as her rich knowledge of the area. The open house was also beautifully staged, reflecting such a professional touch. Rachael was helpful and open, but not at all pushy, so she made me feel comfortable immediately. When we were ready to look at homes, I called her right away. She took us out for coffee to brainstorm, and within a week, we had an offer accepted on our dream property. We couldn't believe it! From offer to close, Rachael communicated clearly, gave us great advice, helped us stay optimistic, and was fast and efficient with all steps in the process. On the day we got our keys, she even met us at the door with bubbly and a housewarming gift! Such a nice touch. We're happy to say we requested an agent and got a friend in the process. We found our dream house, but if we ever want to sell, Rachael and L34 will be our first call. Thanks for everything!"
-Sarah Shotwell, November 1, 2022, Eagle Rock buyer
On the market
4167 + 4169 Jasmine Ave, Culver City, 90232

4 + 3, Duplex, 1604 sq ft taped, 5773 sq ft lot, built in 1940
Charming 1940's duplex in the heart of Culver City
Both units delivered vacant!
List Price $1,725,000
MLS # 22-194699
Altadena duplex / two houses on one lot, 91001

Front house: 2bd + 1ba, built 1921
Back house: 1bd + 1ba, built 1950's
Both to be delivered vacant
1592 total sq ft, HUGE 15148 sq ft lot
Zoned LCR1.75
Contact us for more information!
www.l34group.com/listing/duplex-two-homes-on-one-lot/
On The Market
6202 Springvale Dr, Highland Park, 90042

3bd + 1ba, plus lower level separate entrance flex-space with quarter bath, 962 sq ft, hot tub and decks w/ views of DTLA, solar panels paid in full, 3432 sq ft corner lot, built in 1924, separate one car garage w/ EV plug-in and loft for extra storage
List Price $989,000
MLS # 22-217061
1842 N Avenue 52, Highland Park, 90042

Highland Park oasis including Spanish-style front house, separate studio unit and office/flex space, and two-story main back house, 2-car mosaic'd garage, multiple decks, idyllic landscaping, lovingly cultivated by same owners for 50+ years, all to be delivered vacant
6bd + 4ba, 3366 sq ft taped, built in 1928, 9896 sq ft lot
List Price $1,525,000
MLS # 22-212185
We would love to meet with you, whether you're considering selling
your home, or looking to purchase a home, please reach out to get the conversation started!
Information always updated and available on www.L34Group.com