– GALLERY ART NIGHT-
Saturday, November 18th, 6-9pm at L34 Group Office, 5622 N Figueroa St, 90042
Join us for delicious refreshments and engaging conversations!
Featuring Joe Aivazian
@ChopakDumpings
Joseph Aivazian, hailing from the turbulent backdrop of 1980s Tehran, Iran, embarked on a remarkable journey that led his family through India and Germany before finding their home in Glendale, California in 1990. At the tender age of 6, Joe's artistic odyssey commenced under the guidance of his father, a gifted artist, who imparted early lessons in the delicate arts of painting and drawing.
Growing up amidst the vibrant tapestry of 1990s Los Angeles, Joe Aivazian's heart was captured by the allure of skateboard culture. This subculture introduced him to a world brimming with art, music, fashion, and a captivating array of personalities gracing the city's streets.
Over the past decade, Joe has meticulously honed his craft in oil and mixed media, cultivating his distinctive artistic voice. Notably, Joe has taken to the streets as "Chopak," selling over a thousand custom postcards. This raw and intimate interaction with fellow humans on the sidewalks of L.A. harks back to his skateboarding roots, fostering a connection to the city's vibrant pulse.
Joe's art serves as a captivating reflection of life in perpetual motion, capturing where he has been and the path he's destined to tread. His work pulsates with the energy of a life marked by movement and change, echoing the spirit of his city and his artistic journey.
–
ESPRESSO DRIPS, WHEELS TURN

 

–

 Agent Contribution: Terry Saltzman, Partner Agent
THURSDAY MORNING TITANS OF INDUSTRY RIDE
After a short hiatus, the Thursday Morning Titans of Industry ride is back! Now, at a new allocation. After six years, our beloved cycling cafe, "Abloc," has shuttered a fiery month-long "cafe takeover." The towel was thrown in; it saddens me deeply.
Abloc was the launching pad for many fantastic adventures, be it two wheels and a chain (bicycles and motos) or four wheels and a motor, the daily neighborhood destination for cyclists, runners, hikers, neighbors, families, visitors, tourists, children, all walks, all people. Lots of amazing friendships and beautiful memories were spawned here.
We saw our dear friend Kjeld (Abloc owner) undergo many life changes. Deirdre and I sold his house, facilitating a buyout of his cafe business partners. We saw love bloom and cafe breakups at Abloc.
In the early months of Covid,  when the world was in blithering chaos, people still needed their alcohol, tobacco, and caffeine….Covid be damned.
Abloc was about to shudder its doors, but the world doesn't stop for friends.  We kept it spinning caffeine at our means. Covid and Coffee times.
Covid Spring, I had the opportunity to offer my service by donating my time, 5:30 am – 2:30 pm daily, to help my buddy, Kjeld, run his cafe, keeping the espresso-loving community happy, joyous and hopeful in a dark time in our collective experience.
Having Fun at Abloc– Kjeld and I turned Abloc into "Disco Espresso", we had a blast. An incredible memory of a very strange time.
However, the good times ended on Thursday as the restaurant auctioneers descended upon Abloc.
The Last Sea Salt Vegan Chocolate Chip Cookie from Abloc
Washing the dishes from the Final Supper on Wednesday afternoon
Coffee "service course" to carry on the Abloc tradition at "Cafe Real Estate" (L34 Group) in our office, where rides will continue in/out until something manifests to replace ….. or not.
Not all is lost, and some exciting new adventures:
Jenny is focusing on her vegan sea-salted chocolate chip cookie business,  Mother Chunker.  We know she will be so very successful! Follow her on her new Gram and give her some LOVE!
Kjeld and I took a week-long roasting course together in Oakland, at Royal Coffee in February 2022. Kjeld has since relocated to Petaluma, where he roasts  magnificent, beautiful coffee (Deirdre swoons for his Guatamalen, and we order 10lbs at a time). You can purchase it here.
Our roasting adventures:
I run Súpər Roast through "L34 Macchina" at our office….in that, the cycle of Abloc life is honored and continues. With the fantastic new La Marzocco Linea Mini espresso machine, which Thy lovely Sicilian Queen (Deirdre) gifted me for my recent 60th birthday, I am happy to serve the cycling community as a barista in lycra.
Producing beautiful coffee, for amazing friends, neighbors, and passersby.
The espresso drips,
the wheel turns,
and the good times roll.

No further.
– LOVE WORDS –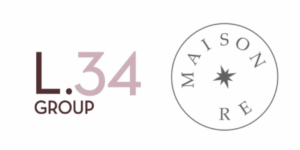 We love our clients and they love us….
❝Look no further. You should definitely be working with L34. We sold our home AND bought a new home – simultaneously – from 3000 miles away with Shannon Reed at the helm of both transactions. Shannon took absolute ownership over every single aspect of both undertakings. She oversaw the numerous inspections, lined up and coordinated work with contractors, helped us make design choices, and generally acted as though it were her own home. She is an absolutely incredible leader and a great communicator. She is highly organized, proactive, experienced, level headed and gives rock solid advice.In general, the whole team at L34 totally understands the marketplace, are meticulous planners, are true to their word, go above and beyond what is expected, have near-clairvoyant insights, leave no stone unturned, can answer all of your questions, have a stable of incredible inspectors, contractors and loan agents, and are just all around good people. We cannot recommend L34 more highly.❞
-James M., Highland Park home seller
– THE BREATH SHOP –
Join us Wednesdays at our office for The Breath Shop with Maya Bachmann. Deepen your breath, experience grounding relaxation, learn to optimize the quality of your sleep, and more!
$15 a class, please RSVP below, space is limited!
Class A: 6-7:20 P.M.
Class B: 7:30-8:50 P.M.
Location: L34 Group – 5622 N Figueroa St, Los Angeles CA 90042
– JUST SOLD –
2060 Panamint Dr, Glassell Park, 90065
SOLD for $1,700,000
$551K over asking!
Mid Century w/ panoramic views and huge lot!
4 bd + 2 ba, 1659 sq ft, built in 1965, 33,784 sq ft lot
www.2060Panamint.com
206 W Elmwood Ave, Burbank, 91502
SOLD for $1,115,000
$40K+ over asking!
Spanish style, abundant backyard with mature fruit trees
3bd + 2ba, 1605 sq ft taped, plus bonus unpermitted guest house, built in 1925, 4785 sq ft lot
www.206Elmwood.com
4849 Eldred St, Los Angeles, CA 90042
SOLD for $1,210,000
$61K over asking!
3 bd + 2.5ba, 1884 sq ft, new construction, 2-story home built in 2023 with modern finishes
5393 sq ft lot with exclusive, panoramic views from LA's steepest street
www.4849Eldred.com
– ON THE MARKET –
4797 Huntington Dr N, El Sereno, 90032
Adorable and centrally-located
1 bd + 1 ba, 661 sq ft, built in 1947, 5954 sq ft lot
Offered at $599,000
www.4797Huntington.com
2247 Maurice Ave, La Crescenta, 91214
Mountain retreat in secluded Briggs Terrace neighborhood
Paid-in-full solar panels
4bd + 3ba, 3093 sq ft, built in 1985, 7304 sq ft lot
Offered at $1,599,000
www.2247Maurice.com
320 East Stocker St, #220, Glendale, 91207
Spacious one bedroom condo, private balconies, and ready to make your own!
1 bd + 1 ba, 1175 sq ft, built in 1975
Offered at $525,000
www.320Stocker.com
– COMING SOON –
137 E Avenue 42, Northeast LA, 90031
Spacious, single-story home near The Lummis House, w/ swimming pool, fenced front yard, and detached bonus space
3 bd + 2 ba, 1700 sq ft, 7499 sq ft lot
Offered at $929,000
www.137Avenue42.com
– IN ESCROW –
6155 Strickland Ave, Highland Park, 90042
Adorable California Bungalow duplex with modern updates and open flow on both levels, complete with a spacious, canopied backyard
2bd + 2ba upper unit, 1bd +1ba lower unit, 1459 taped total sq ft, built in 1926, 5269 sq ft lot
Offered at $999,000
www.6155Strickland.com
4853 Eldred St, Los Angeles, CA 90042
3bd + 2.5ba, 1651 sq ft, new construction single story home built in 2023 with modern finishes,
5391 sq ft lot with exclusive, panoramic views from LA's steepest street
www.4853Eldred.com

Leslie J. Black, Fairway Independent Mortgage Corporation
Branch Manager | Mortgage Advisor | NMLS #1111536
C: 562.322.0836 | lblack@fairwaymc.com
We would love to meet with you, whether you're considering selling
your home, or looking to purchase a home, please reach out to get the conversation started!
Information always updated and available on www.L34Group.com