Plant walls can help with so much more than you think! Reduce temperature in the hotter months, insulate your home, reduce energy costs, and enjoy the uplifting benefits of seeing plants daily. The only thing left to choose is what kind of plant wall will you have?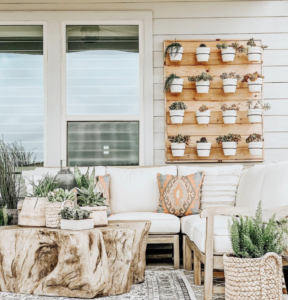 Garden plant walls can provide privacy, living room plant walls are wonderful to see and are easy maintenance wise with the right plants. A kitchen plant wall can serve as decoration plus grow herbs you will use – for free! Mix and match plants, if you can't pick just one. There are no rules when it comes to plant walls!
–  FALL IS HERE –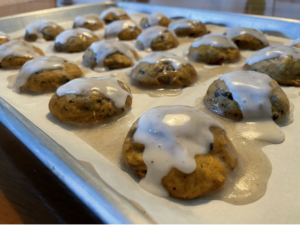 Contribution by L34 Group Partner Agent, Sara Voden
Fall is here. In LA we don't get to experience much in the way of cooler weather or the change of foliage. While we can't go out "leaf peeping", we can bring some of the colors and smells of the season into our homes by cooking and baking with seasonal fall fruits and vegetables.
If you like to celebrate the season with pumpkin spice, here's a recipe for cake-like cookies that are easy to make and delicious to eat! Full recipe below:
Pumpkin Chocolate Chip Cookies
4oz unsalted butter (room temperature) 1 cup brown sugar
1 egg
1 teaspoon vanilla extract
1 cup canned pumpkin 2 cups all purpose flour 1 teaspoon baking soda 1⁄4 teaspoon salt
1 teaspoon cinnamon
1 teaspoon nutmeg
1 cup semi or bittersweet chocolate chips
Spiced Glaze
1 cup powdered sugar
1⁄4 teaspoon nutmeg
1⁄4 teaspoon cardamom
2 tablespoons buttermilk
Mix spices with powdered sugar using a whisk. Whisk in buttermilk and set aside.
Directions – Cream butter and sugar for 5 minutes. Add egg and vanilla and beat a few more minutes until light and fluffy. Scrape down the sides of the bowl. Add pumpkin puree and mix until thoroughly combined. In a separate bowl, mix dry ingredients with whisk. Add dry ingredients to the wet ingredients and mix gently until just combined. Stir in chocolate chips. Refrigerate the dough for about 1 hour before scooping onto parchment lined cookie sheets. Use an 18/8 cookie scoop or 1 1⁄2 tablespoons per cookie. Bake at 350 degrees for about 13-15 minutes until cookies are set. Cool completely and then drizzle with glaze. Yields about 40 cookies.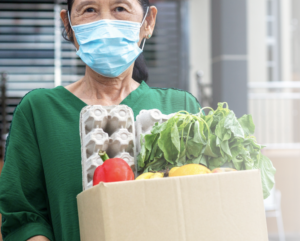 Fall also means the holiday season will be soon approaching. This time of the year we are often reminded to be thankful for what we have. It also reminds us to share that with others if we are able to. There are many ways one can do that: by donating your time, food, possessions, or money. Many organizations in Los Angeles and the surrounding areas make it easy to do one or all of these things. Here are some recommendations of places that accept donations year round.
This is a great place that connects with local food pantries throughout all of Los Angeles
Located in Pasadena, this organization offers a variety of services to help people who are at risk of, or are already experiencing homelessness.
The Interfaith Refugee and Immigration Service (IRIS) assists refugees with an assortment of legal and resettlement services, and hosts a food pantry.
– LOVE WORDS –
We love our clients and they love us….
"Working with L34 Group to sell our house was a great experience from our first meeting with them until we closed escrow. They worked closely with us to guide repairs and upgrades that they felt would bring us the greatest return. They were also quick to caution on things that might not be necessary. The house went on the market just as rates began rising and market conditions were much different than we had expected when we began the process. However, Fawn Vu and her team navigated the shifting sands professionally, instilling confidence in us she led the way through the end. Their knowledge of marketing and negotiating with buyers was invaluable. Thank you to Fawn, Catherine and Deirdre for all your assistance and expertise!"
-Howard Fine, Sept 26, 2022, Glassell Park homeowner & seller
On The Market
Altadena duplex / two houses on one lot, 91001

Front house: 2bd + 1ba, built 1921
Back house: 1bd + 1ba, built 1950's
Both to be delivered vacant
1592 total sq ft, HUGE 15148 sq ft lot
Zoned LCR1.75
Click here for more information
543 W Stocker St, Unit 8, Glendale, 91202

2 + 3, 1328 sq ft, 3-stories, two primary suites, end unit, built in 1981
List Price $699,000
MLS # 22-207241
4167 + 4169 Jasmine Ave, Culver City, 90232

4 + 3, Duplex, 1604 sq ft taped, 5773 sq ft lot, built in 1940
Charming 1940's duplex in the heart of Culver City
List Price $1,750,000
MLS # 22-194699
Under Contract
112 N Avenue 66, Unit #1, Highland Park, 90042
2 + 2, 832 sq ft, ground floor, end unit w/ fireplace, private patio & parking, built in 1982
List Price $499,000
MLS # 22-201051
Coming Soon
1842 N Avenue 52, Highland Park, 90042
Highland Park oasis including Spanish-style front house, separate studio unit and office/flex space, and two-story main back house, 2-car mosaic'd garage, multiple decks, idyllic landscaping, lovingly cultivated by same owners for 50+ years, all to be delivered vacant
6bd + 4ba, 3366 sq ft taped, built in 1928, 9896 sq ft lot
List Price $1,525,000
6202 Springvale Dr, Highland Park, 90042
3bd + 1ba, plus lower level separate entrance flex-space with quarter bath, 962 sq ft, hot tub and decks w/ views of DTLA, solar panels paid in full, 3432 sq ft corner lot, built in 1924, separate one car garage w/ EV plug-in and loft for extra storage
List Price $989,000
MLS # TBD
We would love to meet with you, whether you're considering selling
your home, or looking to purchase a home, please reach out to get the conversation started!
Information always updated and available on www.L34Group.com