– GALLERY ART NIGHT –
Join us Saturday, October 14th from 6-9 p.m. for our Gallery Art Night
L34 Group Office: 5622 N Figueroa Street, Highland Park
Featuring: Alan Marx
Alan Joseph Marx (b. Dayton, Ohio, 1968) is a photographer, painter, and sometimes
performer who has been creating and exhibiting work for over thirty years.. Alan is a
mostly self-taught visual artist with a life-long drawing practice, and a compulsion to
make paintings on reclaimed surfaces. Loyal to the analog photographic process, he is
consistent in his desire to document the events of his queer community from the early
90s to the present, as well as his boyfriends, those he keeps close, and his environments
and surroundings.
Alan currently has a collection of abstract color photographs on
display at Red Hen Press in Pasadena that reference the work of the Color-field Painters
and the Abstract Expressionists. His work has been included in several group shows and
art spaces in Southern California including RDFA, ArtShare LA, and the Coachella Valley
Arts Complex. Alan's photographs have been included in the art and literary journal
Spunk, and in 2022 he released his first collection of black and white images titled
PALINDROME 91-19.
Alan welcomes studio visits at his workspace on the fifth floor of the Bendix Building in
Downtown Los Angeles. Check out more of Alan's work on his Instagram,
–
AUTUMN INDULGENCES

–

 Agent Contribution: Rachael Reiser, Partner Agent

With the heat of summer behind us, it's easy to embrace crisp evenings, warm beverages, and leisurely outdoor adventures. Fall fragrances and flavors envelope us, and I find our local farmers markets and U-pick produce destinations to be a great source of inspiration.
"An apple a day keeps the doctor away."  A favorite apple destination is the community of Oak Glen "where apples grow a mile high! "Oak Glen is a small agricultural community located in the foothills of the San Bernardino Mountains."  There are a several apple picking locations within Oak Glen, as well as fall festivals celebrating local agriculture.
https://www.oakglen.net/
A popular family treat in our household is homemade applesauce.  It's simple to make, and the cooking aromas make your house smell divine!  This applesauce is delicious while accompanying both sweet and savory foods such as pancakes or pork chops.
Rachael's Applesauce Recipe:
Yield: 4 servings
Ingredients:
6 medium-sized apples peeled, cored, and cut into chunks
¼ Cup water or apple juice
1 TBSP Lemon Juice
1 Tsp Cinnamon (or more to taste)
1 TBSP Brown sugar
Preparation:
In a large enough pot, combine ingredients and cook on medium heat while stirring occasionally for around 25 minutes (Or until apples are soft).
Remove from heat and serve it as-is (Chunky) or use an emersion blender to create a smoother texture.

Enjoy the applesauce warm from the stovetop, or chill in the refrigerator for another day!
A few "spooky" activities you won't want to miss!
Griffith Park's Haunted Hayride
Fun for adults and older children.  Be sure to reserve your tickets early!
Boo at the Zoo
"The Halloween spirit will be in full swing for two frightfully fun weekends at the L.A. Zoo, with trick-or-treating stations featuring premium Mars candies, plus animal pumpkin feedings, themed photo ops, story readings, and an extinct animal graveyard. Costumes are encouraged!"
Easy and eco conscience DIY ghost decorations
It's always fun to entice trick or treaters with spooky yard ornamentation, and these simple ghosts are a great alternative to plastic/ store-bought decor.
What you need: 
-Large white sock
-Pillow filler/ stuffing
-Cheese cloth
-Black felt (for eyes)
-Fabric glue
-Wire hanger
-Pliers/ Wire cutter
-Scissors
Directions:
– Fill sock with stuffing and tie-off
– Cut wire hanger and push through each side of the sock and bend to create "arms."
– Cut black felt into ovals for eyes/mouth and glue to sock body
– Drape cheese cloth to create ghostly body shape
– Use additional wire to make hook for hanging
BOO!

– LOVE WORDS –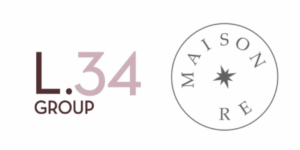 We love our clients and they love us….
❝Buying a house is one of the most puzzling, difficult, and nuanced things someone can undergo whilst living in California. Nevertheless, there are some (a rare breed) that make this process friendly, AND fulfilling: they are called the L34 Group. My wife and I are/were first time homebuyers with a few 'extra' complications (selling a property, 1031 rollover, New Development purchase etc.). Francine Biton from L34 Group was a Godsend. Francine was infinitely patient with us, walking us through each step, and going well above-and-beyond the call of duty (regularly) to ensure all of the contributing parties were on course at every step of the way. My wife and I cannot recommend her partnership, professionalism, and thoroughness enough. Thank you, Francine, you really made all the difference!❞
-Jason B., Pasadena condominium buyer
– JUST SOLD –
5924 Great Oak Circle, Highland Park, 90042
SOLD for $1,200,000
$211K over asking!
Quintessential 1914 California Craftsman, tiered backyard with views
2 bd + 1 ba, 812 sq ft taped, plus bonus space w/ sep entrance, 5623 sq ft lot
www.5924GreatOak.com
3727 Griffin Ave, Montecito Heights, 90031
SOLD for $1,360,000
$211K over asking!
Large & Bright Craftsman w/ ADU
4 bd + 3 ba, 2368 sq ft, incl attached lower level ADU, built in 1909, 7286 sq ft lot
www.3727Griffin.com
– ON THE MARKET –
2060 Panamint Dr, Glassell Park, 90065
Mid Century w/ panoramic views and huge lot!
4 bd + 2 ba, 1659 sq ft, built in 1965, 33,784 sq ft lot
Offered at $1,149,000
www.2060Panamint.com
206 W Elmwood Ave, Burbank, 91502
Spanish style, abundant backyard with mature fruit trees
3bd + 2ba, 1605 sq ft taped, plus bonus unpermitted guest house, built in 1925, 4785 sq ft lot
Offered at $1,074,999
www.206Elmwood.com
4849 Eldred St, Los Angeles, CA 90042
3 bd + 2.5ba, 1884 sq ft, new construction, 2-story home built in 2023 with modern finishes
5393 sq ft lot with exclusive, panoramic views from LA's steepest street
Offered at $1,149,000
www.4849Eldred.com
4853 Eldred St, Los Angeles, CA 90042
3bd + 2.5ba, 1651 sq ft, new construction single story home built in 2023 with modern finishes, 5391 sq ft lot with exclusive, panoramic views from LA's steepest street
Offered at $1,049,000
www.4853Eldred.com
– COMING SOON –
6155 Strickland Ave, Highland Park, 90042
Adorable Cal Bungalow duplex with modern updates and open flow on both levels, complete with a spacious, canopied backyard
2bd + 2ba upper unit, 1bd +1ba lower unit, built in 1926, 5269 sq ft lot
Offered at $999,000
www.6155Strickland.com
2247 Maurice Ave, La Crescenta, 91214
Mountain retreat in secluded pocket of La Crescenta
4bd + 3ba, 3093 sq ft, built in 1985, 7304 sq ft lot
Offered at $1,599,000
www.2247Maurice.com
320 East Stocker St, #220, Glendale, 91207
Spacious one bedroom condo, private balconies, and ready to make your own!
1 bd + 1 ba, 1175 sq ft, built in 1975
Offered at $525,000
www.320Stocker.com
4797 Huntington Dr N, El Sereno, 90032
Adorable and centrally-located
1 bd + 1 ba, 661 sq ft, built in 1947, 5954 sq ft lot
Offered at $599,000
www.4797Huntington.com
– IN ESCROW –
4920 Meridian St, Highland Park, 90042
Spanish style, solar panels to be paid in full by sellers at COE,
native landscaped yards, outdoor sauna
2 bd + 2.5 ba, 1536 sq ft taped, converted garage-studio, built in 1934, 5212 sq ft lot
Offered at $1,149,000
www.4920Meridian.com
3040 Perlita Ave, Atwater, 90039
Contemporary Bungalow
3 bd + 2 ba, 1339 sq ft, built in 1948, 4800 sq ft lot, 2 car det garage
Offered at $1,095,000
www.3040Perlita.com
201 S Avenue 63, Highland Park, 90042
Spanish style two-story, tiered gardens w/ fruit trees
4 bd + 2 ba, 2218 sq ft, built in 1928, approx 4000 sq ft lot + approx extra 1000 + fenced
Offered at $1,195,000
www.201Avenue63.com

Leslie J. Black, Fairway Independent Mortgage Corporation
Branch Manager | Mortgage Advisor | NMLS #1111536
C: 562.322.0836 | lblack@fairwaymc.com
We would love to meet with you, whether you're considering selling
your home, or looking to purchase a home, please reach out to get the conversation started!
Information always updated and available on www.L34Group.com