–  DESIGN –
We're back with our NELA Gift guide! Dotter store has dream lion incense  (top left) and 29 palms soothing fragrance candles (top right).  Prelude & Dawn has its own gift guide including the Rooibos Chai Kit (bottom left) and this Digital Giclée Print (bottom right).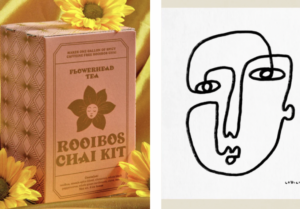 Hard copy books are back in, and ready for you to gift at The Pop Hop on York (bottom left). No Wi-Fi required! If you can't make it in person or need to ship it to someone, they have a very extensive and full updated website for easy shopping. Pasadena also has The Goldbug which has eclectic jewelry and gifts, like these scientific wall charts (a very trendy thing to put in your kitchen).
Reminder they just moved to 38 E Holly Street in Old Town Pasadena.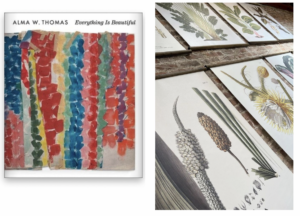 And last but not least – of course we had to mention our beloved à bloc: we have to mention the incredibly tasty cookies which you can buy as a Santa's dozen! Vegan, gluten-free, nut free, and absolutely delicious (bottom right).
You can also grab a gift certificate for that coffee fan (or biker) in your life. One of our favorite things about à bloc is you can also visit the bike shop next door, The Hub, to spiff up your bike and join in on the cyclist community and events.  "The Hub is equipped to handle any job on your bicycle. We service suspension, bleed brakes, adjust Di2/eTap, build wheels, custom frame up builds and anything else in-between. Call, email, or schedule an appointment online to get started."
Show your NELA cycling pride by buying one of their t-shirts in their online merch store or grabbing one for a friend with more
options in person at the store.
From the store's instagram (bottom left)
"Need some holiday gift ideas? We've got you!
1. A Bloc swag to rep your fave coffee shop on and off the bike
2. All the best coffee beans
3. For the barista at heart
4. Because drinking coffee straight from the pot is frowned upon
5. All the punniest pins
6. Sunglasses to block all the shade from the haters
7. Safety and style first
8. Hydrate like a pro
9. Relax and recover"
We can't recommend everything à bloc enough!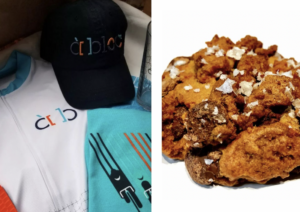 – SUGAR N' SPICE –
Agent Contribution by Rachael Reiser, Partner Agent
Creating a festive environment 
The Holiday season is upon us and there's nothing better than the indulgence of glowing candlelight, twinkling lights and delectable scents wafting through one's home.
A favorite way to create a cozy and welcoming vibe in any household is by simmering homemade stovetop potpourri.  This simple recipe will have your home smelling like Holiday festivities in no-time!

Recipe:
(1) Orange sliced
Handful of fresh or frozen cranberries
(2) Cinnamon sticks
Sprigs of rosemary
Water
Place ingredients in a saucepan with water and bring to a simmer.  Continue to replenish the water when it gets low.  Feel free to add other aromatics to the pot such as star anise, cloves, and cardamom!
 Natural elements and sustainable décor are beautiful and eco conscientious
We love incorporating branches, fruits, and herbs into our festive table settings.  Add a sprig of rosemary to your napkins and pick up some discarded pine branches from your local tree lot.  Let your imagination run wild and have fun with your centerpiece!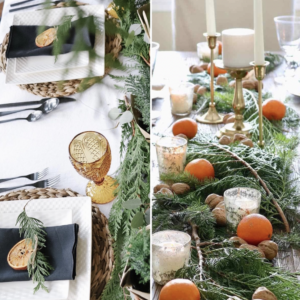 Beautiful, sustainable and made in L.A.  These beeswax taper candles from Wild Root are a gorgeous addition to any table setting!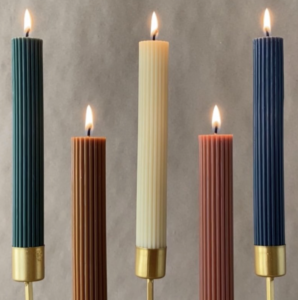 https://www.wildrootla.com/beeswax-candles/rigid-taper-candles
Festive Outings
Griffith Park: Holiday Light Festival Train Ride
This a fun family friendly activity, and a great excuse to bring a thermos of hot cocoa to enjoy afterwards.
https://www.griffithparktrainrides.com/holiday-light-festival/
Running until January 6th
Monday-Thursday: 5-8pm
Friday-Sunday: 5-9pm
Descanso Gardens: Enchanted Forest of Light
Descanso Gardens creates a magical light display that gives a new perspective to the extensive gardens.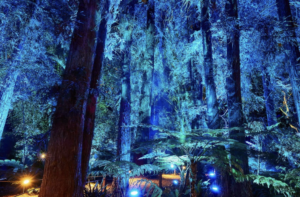 Light's displayed until January 9th
Reserve your tickets online:
https://www.descansogardens.org/programs-events/enchanted/
Wishing everyone a memorable Holiday season full of love, laughter, and merriment!
Rachael Reiser- L34 Partner Agent and newsletter contributor
– LOVE WORDS –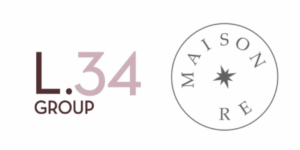 We love our clients and they love us….

❝Deirdre and her team made the entire process of selling my property easy. They were always just a phone call or email away when I had a question and believe me I had lots of questions. My property was very unique and required an agent who understood how to properly market it and Deirdre and her team at the L34 Group was the best agency for the job. They went above and beyond my expectations and even succeeded in getting us over our asking price. If you're looking for an agency that understands the market (especially NELA), knows how to get the best results and always puts her clients first, then Deirdre Salomone and her team at the L34 Group is the one for you.❞

– Cash Fritz, Montecito Heights owner-occupant duplex seller
Just Sold
1842 N Avenue 52, Highland Park, 90042

Highland Park oasis including Spanish-style front house, separate studio unit and office/flex space, and two-story main back house, 2-car mosaic'd garage, multiple decks, idyllic landscaping, lovingly cultivated by same owners for 50+ years, all to be delivered vacant
6bd + 4ba, 3366 sq ft taped, built in 1928, 9896 sq ft lot
SOLD for $1,800,000
$275,000 over asking!
List Price $1,525,000
MLS # 22-212185
6202 Springvale Dr, Highland Park, 90042

3bd + 1ba, plus lower level separate entrance flex-space with quarter bath, 962 sq ft, hot tub and decks w/ views of DTLA, solar panels paid in full, 3432 sq ft corner lot, built in 1924, separate one car garage w/ EV plug-in and loft for extra storage
SOLD for $1,065,000
21 Day Escrow!
$76,000 over asking
List Price $989,000
MLS # 22-217061
On The Market
Altadena duplex / two houses on one lot, 91001

Front house: 2bd + 1ba, built 1921
Back house: 1bd + 1ba, built 1950's
Both to be delivered vacant
1592 total sq ft, HUGE 15148 sq ft lot
Zoned LCR1.75
Contact us for more information!
www.l34group.com/listing/duplex-two-homes-on-one-lot/
Coming Soon
 1411 Wildwood Drive, Eagle Rock, 90041
3ba + 2ba, 1661 sq ft, built in 1964, 9703 sq ft lot
List Price $TBD
We would love to meet with you, whether you're considering selling
your home, or looking to purchase a home, please reach out to get the conversation started!
Information always updated and available on www.L34Group.com