LIFESTYLE
It's the time for summer road trips, so let's talk investing in your very own hotel on wheels. Before investing, plan out your steps to renovating a vehicle and ask yourself these questions: What size vehicle do I want or need? How long will I need to be able to live in the van ( short or long term)? What essential tools or living supplies need to be added? With most of the research we did, it seems like the place you'll sleep is the main attraction. Once that's figured out, take time to plan out where your storage will be – under the bed, (top left) or in cabinets (bottom right and left)? How can you store things in your new space that can easily expand into the outdoors (top right). A good amount of planning and careful execution can save you a ton of money and add to your next big adventure.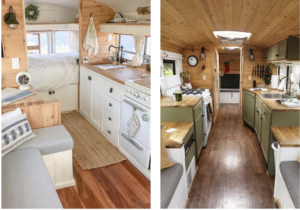 – GROCERY GREATNESS IN NORTH EAST LA –
Contributed by L34 Group Partner Agent, Eva Garber
While cool restaurants are certainly an indicator of a neighborhood's "cool factor," the true metric of livability comes down to a neighborhood's grocery options. As a team comprised largely of food focused East-Siders, we are forever speaking in terms of what we're eating, where we got it, how we prepared it and may we please have a bite. In Southern California, we are spoiled with a year-round bounty of fresh produce, organic and ethical meats and, inarguably, the best specialty food stores in the world. As an ode to our great love of North East LA's grocery greatness, I, Eva Garber, am taking you on a tour of my favorite specialty grocers by neighborhood and highlighting my favorite finds.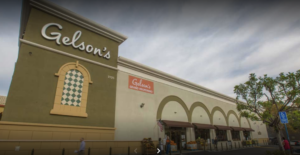 SILVER LAKE
Gelson's Market
2725 Hyperion Ave, Los Angeles, CA 90027
Let's face it: Gelson's Silverlake (even though it's technically Los Feliz) is kind of weird. For starters, it used to be Hyperion Studios, aka Disney Studios – where Minnie Mouse was born. Gelson's is anything but a millennial grocery store. It's an L.A. institution, a little on the expensive side, similar to a normal grocery store but elevated. In any given cart you'll find a half pound of sliced Havarti, a Jidori Chicken, some Yahrzeit candles and a box of cracked pepper Triscuits, but the well-seasoned shopper will always make a stop at the Viktor Benes bakery counter. The name Viktor Benes rings like a secret passcode to people in "the know," a reference to a more sophisticated sweetness. Showing up to dinner with a box of Viktor Benes assorted cookies will win you more points than the most expensive biodynamic red from Domaine LA. The mere gesture of selecting a perfect ratio of rugelach to juvenile M&M cookies is an act of love and care that can't be replicated.
What to get: Anything from Viktor Benes, but especially the cookies.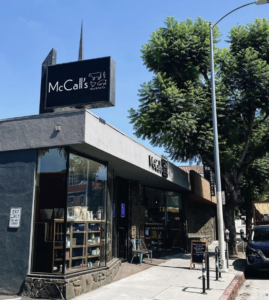 LOS FELIZ
McCall's Meat and Fish Co
2117 Hillhurst Ave, Los Angeles, CA 90027
People come from far and wide for McCall's Meat and Fish. It's goes without saying that the meat and fish are phenomenal and that the store is stocked with expertly curated non-perishables, things packaged so beautifully you may never actually eat them, like Aneto chicken broth and the most authentically Italian-looking jars of cannellini beans, almost like a museum of good taste but aside from the obvious, it's the sandwiches that really have people talking, notably the turkey sandwiches, which are served Wednesday through Saturday.
What to get: A turkey sandwich and perhaps an Australian Wagyu ribeye for later.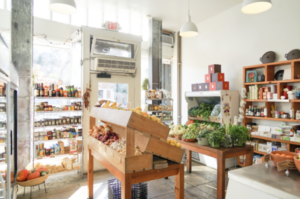 HIGHLAND PARK / ECHO PARK
Cookbook (Two Locations)
5611 N Figueroa, Los Angeles, CA 90042 (HP)
1549 Echo Park Ave, Los Angeles, CA 90026 (EP)
Perhaps we're biased, since our office is located across the street from the Highland Park location, but it's more than just bias. The quality at cookbook is unparalleled. It's by no stretch a discount market, but it's a place where satisfaction is a guarantee in every category. I tend toward the frozen chicken pot pie and any of the Marin Sun Meats. The salami and cheese selections are out of this world and for the modern wino-forever, you'd be hard pressed to find a better selection. If you're on a budget you can always cobble together a snack involving some fresh fruit, a birdseed bar and some fantastic drip.
What to get: The Frozen Chicken Pot Pie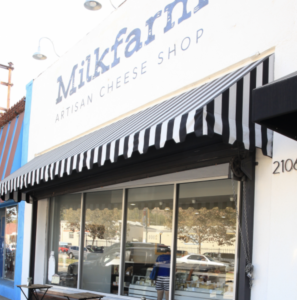 EAGLE ROCK
Milkfarm
2106 Colorado Blvd, Los Angeles, CA 90041
Milkfarm is for cheese lovers. This place is not for the lactose intolerant or gluten sensitive. It's for those among us blessed with strong stomachs or those willing to pay the price. As a member of the latter group, I can tell you it's worth it to throw caution to the wind, so to speak, and indulge in the menu staple: The Signature Grilled Cheese. It's not healthy but who cares. According to the website it's "a blend of three American artisan cheeses, onions, leeks and shallots, butter, olive oil, and fresh cracked pepper on fresh baked stoneground whole wheat bread."
What to get: The Signature Grilled Cheese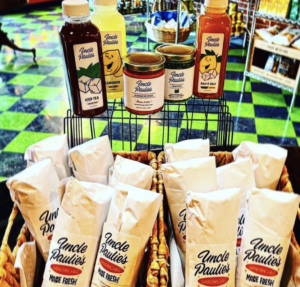 JUST SOLD
4134 Berenice Ave, Montecito Heights, 90031
$275,000 over asking price!
SOLD FOR $1,450,000

  .
3 + 2, 1527 sq ft, plus new ADU, 5198 sq ft lot, amazing front yard w/ views, built in 1912
List Price $1,175,000
On the market
5601 Meridian St, Highland Park, 90042

2 + 2, 1106 sq ft taped, Bungalow, 5049 sq ft corner lot, built in 1907
List Price $975,000
21306 Orrick Ave, Carson, 90745

5 + 2, two-story, 1613 sq ft, across from beautiful park, attached garage,
4706 sq ft lot, built in 1963
List Price $720,000
1903 Temple Ave, Unit 120, Signal Hill, 90755

2 + 2 condo, 1111 sq ft, large patio, built in 1972
List Price $494,000
Coming Soon
3536 Verdugo Vista Terrace, Glassell Park, 90065
 3 + 3, 2065 sq ft, Mid-Century, 2-car attached garage, backs to open space, 7099 sq ft lot, built in 1963
List Price $1,499,000
6176 Mount Angelus Dr, Highland Park, 90042
 3 + 2, two-story, 1322 sq ft, Mid-Century Balinese retreat, 3444 sq ft lot, built in 1971
List Price $1,149,000
1816 Scott Ave, Echo Park, 90026
 2 + 1 plus attached lower 1 + 1, approx 1100 sq ft taped, 4002 sq ft lot, built in 1922
List Price $999,000
We would love to meet with you, whether you're considering selling
your home, or looking to purchase a home, please reach out to get the conversation started!
Information always updated and available on www.L34Group.com