The "rule of the thirds" is a well kept secret of interior designers that is said to the be the most visually pleasing for our brains and can be applied to any room in your home. The "rule" states that you should group objects of odd numbers and arrange them in a visual triangle. This can be applied to photographs or paintings as well. Photographers, directors of photography, and visual artists often try to balance the canvas into three vertical parts so it's more memorable to the eye.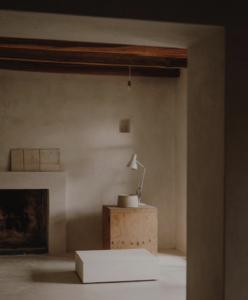 For example, display dishes of various sizes by grouping in odd numbers or try stacking books in groups of three on your night stand. Lucky for us, some things already come grouped in odd numbers. Lamps often have three different levels and and odd number of bulbs. Plus, you don't have to always group similar things together: take 2 pillows and pair them with a blanket (left). The rule of thirds doesn't apply to everything, but it's a great place to start.
– FALL FUN IN YOUR BACKYARD –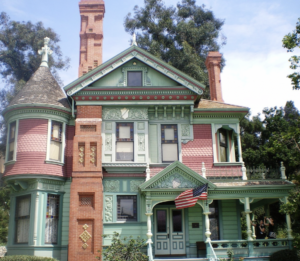 Contributed by agent partner Aurora Aramburu
Welcome to Heritage Square Museum.  When one steps foot onto the grounds of the museum, it is like stepping back in time.  A time unlike the modern Los Angeles we know today. The Heritage Square Museum is dedicated to preserving the historic architectural treasures of The City of Angels.  This one of a kind, open air museum sits just off the 110 freeway in Montecito Heights. It was founded to educate its visitors on the settlement and development of Southern California during its first Century through the restoration and preservation of 9 historic buildings.  Each building was originally slated for demolition, and were each moved to their final location on the site of the museum.  Once moved, each building was painstaking and lovingly restored.
In addition to guided tours, the museum sponsors family activities throughout the year.  Some of the most popular activities happen during  September and October.

Haunted Ghost Tour and Early Victorian Horror Film Presentation
Saturday September 24, 2022
7:30 pm until 10:00 pm
Light refreshments will be served during the intermission of the cinema presentation in the Historic Lincoln Avenue Church. Proceeds from ticket sales help support the restoration and preservation of Heritage Square Museum.
Ticket Price: $55.00 per person:
EVENTBRITE: https://www.eventbrite.com/e/haunted-ghost-tours-with-a-presentation-of-victorian-19th-century-cinema-tickets-415110064377

Spook-A-Nanny featuring Bob Baker Marionettes.
Oct 10th at 7:30.
Information and Tickets at www.bobbakermarionettetheater.com .
Annual Outdoor Mourning Faire
Saturday & Sunday October 23 & 24 from 11am-5pm
Tickets available at www.eventbrite.com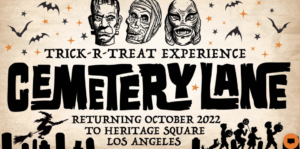 Cemetery Lane
Wednesday October 27-Sunday October 31
This is a safe family friendly Trick or treating experience set in a "Living Museum".  More  Info & tickets at  www.cemeterylane.com
Admission:
$10 Adults (13+) $8 Seniors (65+) $5 Children (6-12)
Museum members and children under 6 are admitted free of charge. Discounts available for AAA Auto Club and TimeTravelers® members.

Guided Tours:
The interior guided tours are at noon and three o'clock and will include our historic buildings.
Tours are approximately 45 minutes to one hour in length and are $16.00 per person, Members are $8.00 per person. Proof of Covid vaccination required or negative Covid test within 48 hours of tour. No discounts, schedule changes and no refunds. There are no self guided interior tours allowed.
Tickets are presale only on www.eventbrite.com.
Heritage Square Museum
3800 Homer St Los Angeles, CA 90031
Museum Hours
11:00 am-5:00 pm Saturday & Sunday
*The museum is closed for  Fourth of July, Thanksgiving, Christmas, and New Year's Day. Occasionally, with heavy rain storms, the museum may close for safety reasons.
For more information: http://heritagesquare.org
– LOVE WORDS –
"Rachael Reiser is who everyone hopes their realtor will be when they begin the process of buying a home. She was a guiding hand as we navigated this road as first time homebuyers. Rachael is attentive, knowledgeable and genuinely caring. She made the process easy to understand, and when issues arose went above and beyond to make sure everything stayed on track. I cannot recommend her and L34 group strongly enough. Without a doubt, Rachael is the realtor I will turn to in the future and would recommend to any of the loved ones in my life."
Submitted by Highland Park duplex buyer, Ben Boyd, Sep 7th, 2022
On the market
112 N Avenue 66, Unit #1, Highland Park, 90042
2 + 2, 832 sq ft, ground floor, end unit w/ fireplace, private patio & parking, built in 1982
List Price $499,000
MLS # 22-201051
623 N Avenue 54, Highland Park, 90042

4 + 2, 1750 sq ft, 4805 sq ft lot, built in 1910
A true California Craftsman: 112 years old, original details throughout,
ready to be brought to glory!
List Price $920,000
Under Contract
4167 + 4169 Jasmine Ave, Culver City, 90232

4 + 3, Duplex, 1604 sq ft taped, 5773 sq ft lot, built in 1940
Charming 1940's duplex in the heart of Culver City
List Price $1,750,000
4806 Malta St, Highland Park, 90042

3 + 2, 1720 sq ft taped, Spanish Bungalow, 5600 sq ft lot, built in 1932
List Price $1,049,000
MLS # 22-187473
1816 Scott Ave, Echo Park, 90026

 2 + 1 plus attached lower 1 + 1, 1084 sq ft taped, 4002 sq ft lot, built in 1922
List Price $999,000
MLS# 22-187587
2700 E Chaucer St, Unit 5, Cypress Park, 90065

3 + 4, 1961 sq ft taped, fabulous tri-level, built in 2018
List Price $875,000
MLS # 22-187555
3536 Verdugo Vista Terrace, Glassell Park, 90065

 3 + 3, 2065 sq ft, Mid-Century, 2-car attached garage, backs to open space,
7099 sq ft lot, built in 1963
List Price $1,499,000
MLS # 22-178219
Coming Soon
1842 N Avenue 52, Highland Park, 90042
Tri-plex: front house, separate studio, main back house, 6 + 3, approx 2687 sq ft, built in 1928
List Price $1,450,000
543 W Stocker St, Unit 8, Glendale, 91202
 2 + 3, 1328 sq ft, 3-stories, two primary suites, end unit, built in 1981
List Price $699,000
We would love to meet with you, whether you're considering selling
your home, or looking to purchase a home, please reach out to get the conversation started!
Information always updated and available on www.L34Group.com