So You Want To Bike In LA?!? Here's How To Get Started …
Cars may rule the roads here, but there are ways to make it work on two wheels.
"Consider The Benefits: Biking can make a lot more sense than driving in many scenarios. You don't need to comb an area to find parking, for example. If I'm out, I'll often lock up on a bike rack, parking sign, parking meter, etc. Depending on the area, you also won't be slowed down by traffic. In fact, it might be faster than driving. There are many times when I've blazed past a line of backed-up cars in downtown L.A., Culver City, Santa Monica and more during rush hour.The thrifty should also know that biking is a great workout — think of it like SoulCycle, but for free."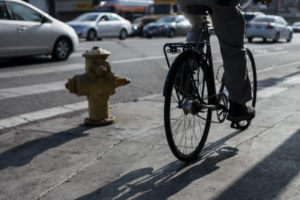 "…The availability of bike racks can be hit-or-miss in the region, but remember that locking up to a tall parking sign or a parking meter are good alternatives.
Invest in a bike helmet, too. Technically, only children 17 years old and under are required to wear helmets in California. However, I'm a firm believer that it only takes one bad spill to change your life forever, so everyone could benefit from wearing one."
 Click HERE to read the full very insightful LAist article!
– LOVE WORDS –
"I am pleased to add to the glowing & growing list of recommendations for the L34 Group. Deirdre, Catherine and Shannon guided me through the process of preparing to sell — my first and beloved family home — while in a different state.
Being remote in this process, I relied on the strong network vendors that Deirdre and Terry have worked with on previous home sales. They engaged vendors who could be a good match for our home, and more importantly within our budget. These vendors, what I lovingly call the extended L34 family, exceeded my expectations and brought my home back to its original glory. The L34 group hosted warm and welcoming open houses that were well attended, which resulted in multiple offers over asking
— and lightning speed of a 14 day escrow.
Deirdre, Catherine and Shannon served as conduits and stewards of my home, and kept me feeling connected, while I was far away. They matched my responsiveness, willingness, sincere considerations and preparedness which led to this successful outcome. I am grateful for all that they have done,and wholeheartedly would recommend and work with them again!"
-Seller five-star review, submitted by Jannah Maresh, 09/04/22,
previous homeowner of 6176 Mount Angelus Drive, 90042
Just Sold
21306 Orrick Ave, Carson, 90745

5 + 2, two-story, 1613 sq ft, across from beautiful park, attached garage,
4706 sq ft lot, built in 1963
SOLD for $705,000
List Price $720,000
MLS # 22-174627
On the market
4167 + 4169 Jasmine Ave, Culver City, 90232

4 + 3, Duplex, 1604 sq ft taped, 5773 sq ft lot, built in 1940
Charming 1940's duplex in the heart of Culver City
List Price $1,750,000
623 N Avenue 54, Highland Park, 90042

4 + 2, 1750 sq ft, 4805 sq ft lot, built in 1910
A true California Craftsman: 112 years old, original details throughout,
ready to be brought to glory!
List Price $920,000
Under Contract
4806 Malta St, Highland Park, 90042

3 + 2, 1720 sq ft taped, Spanish Bungalow, 5600 sq ft lot, built in 1932
List Price $1,049,000
MLS # 22-187473
1816 Scott Ave, Echo Park, 90026

 2 + 1 plus attached lower 1 + 1, 1084 sq ft taped, 4002 sq ft lot, built in 1922
List Price $999,000
MLS# 22-187587
2700 E Chaucer St, Unit 5, Cypress Park, 90065

3 + 4, 1961 sq ft taped, fabulous tri-level, built in 2018
List Price $875,000
MLS # 22-187555
3536 Verdugo Vista Terrace, Glassell Park, 90065

 3 + 3, 2065 sq ft, Mid-Century, 2-car attached garage, backs to open space,
7099 sq ft lot, built in 1963
List Price $1,499,000
MLS # 22-178219
Coming Soon
112 N Avenue 66, Unit #1, Highland Park, 90042
2 + 2, 832 sq ft , built in 1982
List Price $499,000
MLS # TBD
We would love to meet with you, whether you're considering selling
your home, or looking to purchase a home, please reach out to get the conversation started!
Information always updated and available on www.L34Group.com