–  DESIGN –
To some, "grease" is the word- but to us, it's texture. Add a bohemian flair to your home with a touch of a new texture, and it can feel like a brand new space.
One of our favorites is rattan, which adds warmth and a welcoming vibe to any room. Add a group of baskets to hang on the wall, or a pendant made of rattan that will bring the eye line up. Plus, it makes the room feel larger.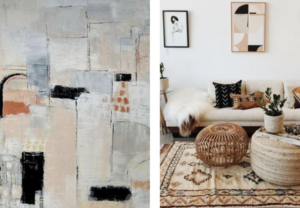 Lean into that bohemian style with a touch of vintage furniture. You won't be disappointed adding a mid-century accent piece like a chair or a pouf with the additional texture of a cozy throw laid over a chair or couch (swing by one of our NELA favorites, Sunbeam Vintage for some inspiration and easy shopping).
Lastly, don't forget abstract paintings which you can highlight as one or try up to a cluster of six. We light contemporary abstract paintings that use neutral blends with a pop of color.
– WINTER DAY TRIPS –
Agent Contribution by Fawn Vu, Partner Agent 
A rainy LA winter like the one we are experiencing means heavy snowfall on our local mountains!  If you are looking for some fun in the snow, we can point you in the right direction.  Whether you are keen on skiing, looking for some spots for sledding, or just simply want to build a snowman – check out our recommended day trips of nearby spots for winter fun.

Mt Baldy
Just an hour or so away, Mt Baldy is the closest ski resort offering multiple ski runs and ski and snowboarding lessons.  Non skiers can also enjoy sledding and inner tubing, or simply take in the scenery of snow capped mountains on the scenic chair lift and visit the restaurant.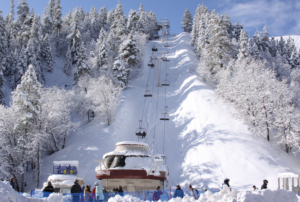 Wrightwood
Travel an hour and a half to Wrightwood, where you will find Mountain High, one of the country's oldest ski resorts. Featuring several lanes with ski and snowboard rentals, a tubing park, and plenty of spaces to build a snowman – this easily accessible location makes an ideal day trip.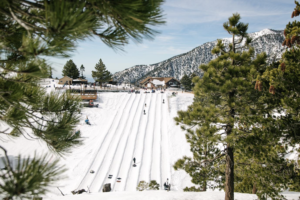 Running Springs
This small mountain town up the San Bernardino Mountain is just an hour and half drive away and closer to LA than Lake Arrowhead and Big Bear.  Snow Valley Mountain Resort is for the skiing and snowboarding enthusiast, while Snowdrift, Southern California's tubing park offers hours of fun.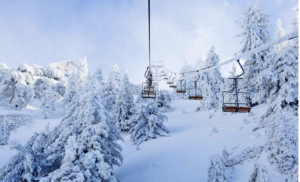 Angeles Crest Highway
If you're looking for a low-key way to enjoy the snow without the frills of a resort, we love taking a drive up Angeles Crest Highway.  From the 2 Freeway, and depending on the level of snowfall you can reach the snow line within 20 minutes.  You'll find hill nooks for sledding and some picnic tables along the way – just pull over!  We always like stopping in at Newcomb's Ranch for a bite along the way
– LOVE WORDS –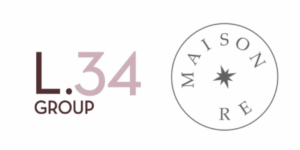 We love our clients and they love us….

❝Stephen McAlpin at L34 Group was such a great realtor to work with! We were first time home buyers, so as expected, the process was pretty daunting. He made a lot of great points as we toured homes, that really helped us weigh our options and make a decision on what made sense for us. Once we found the home we loved, he was super informative and patient. It's important to have someone knowledgeable and willing to go to bat for you, and explain everything that you are confronted with when buying a home and making such a big purchase. We cannot thank Stephen enough! I would recommend him to anyone to help them find their dream home!❞

-Veronica H. Silver Lake home buyer, closed escrow Dec 23, 2022
On The Market
Altadena duplex / two houses on one lot, 91001

Front house: 2bd + 1ba, built 1921
Back house: 1bd + 1ba, built 1950's
Both to be delivered vacant
1592 total sq ft, HUGE 15148 sq ft lot
Zoned LCR1.75
Contact us for more information!
https://l34group.com/listings/ 
Coming Soon
 1411 Wildwood Drive, Eagle Rock, 90041
3ba + 2ba, plus flex space, 1661 sq ft, built in 1964, 9703 sq ft lot
List Price $1,049,000
4167 + 4169 Jasmine Avenue, Culver City, 90232
4bd + 3ba, Duplex, 1604 sq ft taped, 5773 sq ft lot, built in 1940
Both units delivered vacant!
List Price $1,675,000