DESIGN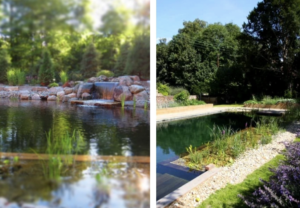 The heat is on in Los Angeles! This week, we're highlighting a trend we love: natural pools.  Natural pools started to take off in Europe after designers became inspired from people swimming in actual ponds. Although the designs can vary, many of them are considered a greener choice because they naturally filter themselves because "the swimming area is separated from a zone planted with aquatic vegetation, which acts as a biological filter. " Good Housekeeping also states "When managed properly, natural swimming pools have crystal-clear water and require no chemicals to maintain because they are self-cleaning mini-ecosystems." Designer Morgan Brown even mentions you don't necessarily have to shower after getting in, and you could technically drink the water!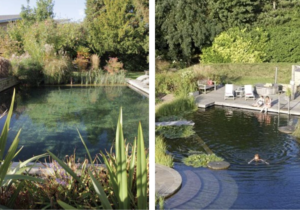 Total Habitat, a company in the US that specializes in natural swimming pools, mentions these pools come in all shapes and sizes. These pools take advantage of nature's natural processing to bring you your own oasis in your backyard.
 L34 GROUP's NELA GALLERY NIGHT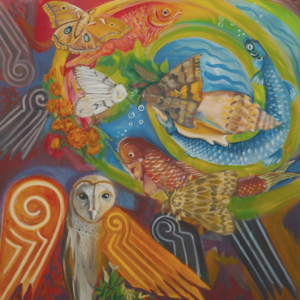 The Owl's Dream, 2021 Mixed media on canvas, 36" x 36" by Mary More
L34 Group's NELA Art Gallery Walk
April 23rd
6 PM – 9 PM
Refreshments will be served.
This month L34 Group will bring back our art gallery night, celebrating local NELA artists. This month we are proud to host Mary Moore and Annie Mann. You can find each artist's bio below, and we hope to see you there!
Mary More (b.1967) Sacramento, CA is a Los Angeles based artist whose painted works on paper and canvas assemble vibrant narratives drawn from art history, literature, botanical studies, and the realms of interior and psychological states. Without planning her compositions in advance, she relies on the symbolic power of animals, insects, birds and fish to guide her decisions in an intuitive process that emerges only in the act of painting.  Through the unexpected combination of paint, crayon, pencil and watercolor, she explores visual realms that are both familiar and uncanny, harmonious and unsettling.  She is inspired by artists such as William Blake, Hilma af Klint, Hiroshige, and Roman wall paintings. More received her BA from Brown University in Art History and her MFA from the University of California, Los Angeles. Her work has been exhibited at Curt Marcus Gallery in New York and been included in "Incognito" at the Santa Monica Museum of Art in Los Angeles.
Anna Maria Mann, (b.1955) Los Angeles, CA is a Los Angeles based artist whose works on paper are intricately woven pen drawings where she transforms what she observes by drawing and scrutinizing the reality of found materials. Each of her marks reenacts desire, loss, movement, and stillness. The intricate marks and intimate gestures as seen in her mixed medium series on wood panels play with linear structures, color, perspective, and perception. Her ongoing interest in the duality of drawing and ceramics is at the foundation of Mann's art. Mann was a part of the early California movement in clay with Malcolm McClain, John Mason, and Peter Voulkos. Her inspiration comes from Minoan pottery and artists such as Leonardo da Vinci, Agnes Martin, Joseph Beuys, and filmmaker, Andrey Tarkovsky. Mann received her BFA from Otis/Parsons School of Art and Design and her MFA from the University of California, Los Angeles. Her work has been exhibited at the Brand Library & Art Center's Brand Forty Two Works On Paper, an exhibition curated by Jack Rutberg in Glendale, CA. In addition, her work was selected for PÆST Gallery's Kamikaze Exhibit in Los Angeles, CA.
Community

Highland Park's own Bob Baker Marionette Theater is presenting its 8th Annual Bob Baker Day at the LA State Historic Park.  For the kids and the kids at heart. Watch some great performances and eat food from one of the many food trucks at the event.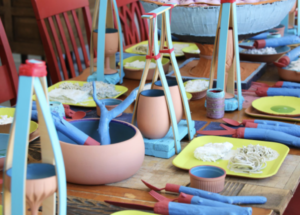 Starting next Saturday, April 16, Descanso Gardens' "Your (Un)Natural Garden" exhibit opens up throughout the grounds.  This exhibit invites you to touch the art – a multisensory experience that, unlike most art exhibits, wants you to touch.  At the same time, Decanso is in full spring bloom – you can enjoy the natural and human-made beauty on display.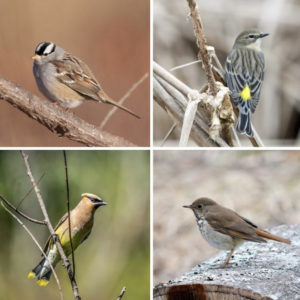 Also on April 16, the Audubon Center at Debs Park presents their monthly Community Bird Walk.  Put on your comfy shoes, a hat and get out to see all the amazing little critters that, like us, call Los Angeles home.  You'll be amazed at the diversity of species living alongside us.  And you thought we only had pigeons!  Be sure to RSVP to secure your spot.
Click here for more information.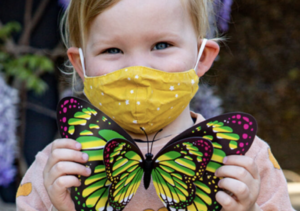 Finally, from now until May 31, it's butterfly season at Kidspace Museum!  You can adopt your very own caterpillar and watch it progress from larvae to butterfly.  If your own butterfly is too much commitment, you can learn all about the majestic butterfly and at the museum without having to bring one home with you.
Click here for more information. 
L34 Group Partner Agent Shannon Reed

Just Sold
960 N Avenue 66, Arroyo View Estates, 90042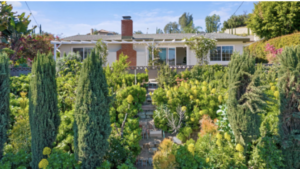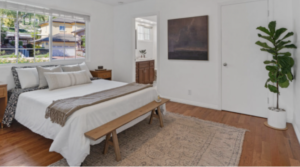 SOLD for $1,379,000
3 + 2, 1309 sq ft, flat 6163 sq ft lot, attached garage, built in 1960
$329K OVER ASKING
New On The Market
3642 Pomeroy St, City Terrace, 90063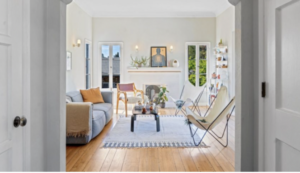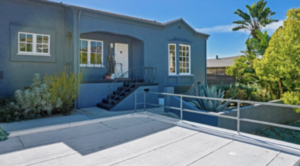 2 + 1, 1091 sq ft, 5251 sq ft lot, design meets vintage charm, large garage, built 1938
List Price $769,000
Coming Soon
858 Cresthaven Dr, Highland Park, 90042
3 + 2, 1430 sq ft, large flat backyard, det garage, 9078 sq ft lot, built 1930
List Price $1,150,000
1814 Oak Tree Dr, Eagle Rock, 90041
Duplex: 3 +1 w/ studio +1, plus separate 2 +1, approx 2000 sq ft, 9210 sq ft lot,
built in 1921
List Price $1,09900
5923 Burwood Ave, Highland Park, 90042
2 + 1, 768 sq ft, 4858 sq ft lot, built in 1924
List Price TBD
Under Contract
1206 Le Gray Ave, Highland Park, 90042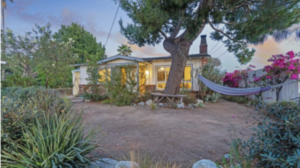 .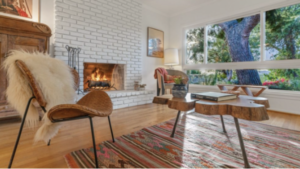 3 + 1, 1014 sq ft taped, 6009 sq ft lot, terraced gardens, built in 1924
List Price $948,000
6234 Roy St, Highland Park, 90042
.
2 + 1, 1189 taped sq ft plus  1 + ¾ lower level space, front decks and backyard w/ views, det garage, 3870 sq ft lot, built 1926
List Price $979,000
We would love to meet with you, whether you're considering selling
your home, or looking to purchase a home, please reach out to get the conversation started!
Information always updated and available on www.L34Group.com